Mr. Anand is a graduate of National Law University, Jodhpur and is the founder and head of Manu & Co. He is involved in various commercial dispute resolution, litigation and arbitrations. Mr. Anand has experience of advising clients from diverse sectors such as Service and Employment laws, Revenue and Land Laws, Mining Laws, Infrastructure and RERA Laws and Insolvency and Bankruptcy Laws.
He advises multifarious clients in complex issues of litigation and is a master at planning comprehensive litigation strategies to serve the best interests of clients. He regularly appears before High Courts, National Company Laws Tribunals, Debt Recovery Tribunals, Central Administrative Tribunals and other fora.
He has an insatiable interest and understanding of the Insolvency and Bankruptcy Laws and regularly advises homebuyers, corporates and entities on the companies' and bankruptcy laws. He also excels in RERA Laws and advises couple of infrastructure developers on litigation and regulatory issues.
Mr. Anand has been bestowed with Advanced research skills and provides research backed strategic advice to the firm's clients. He has been extensively involved in writing research articles which has been published in both, international and national law journals.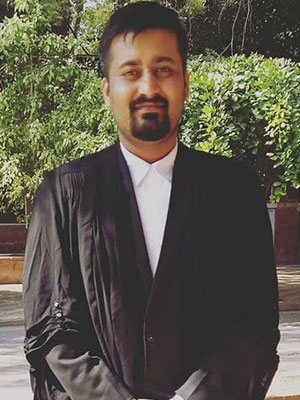 Mr. Gupta graduated from Jindal Global Law School, Sonepat, Haryana. After having worked with a couple of Tier-1 Law Firms in Delhi, he started his litigation career in Rajasthan. With excellent oratory skills and natural persuasion power, Mr. Gupta has proved to be a valuable asset to the firm in representing its clients at original and appellate jurisdictions and various tribunals, as well.
He has advised and assisted many clients and has been extensively involved in offering consultancy on issues pertaining to Mining Laws, Intellectual Property Rights, Alternative Dispute Resolution Schemes, Contracts & Agreements and Government Tenders. He is also involved in labor law litigation and believes that the greater good of the society can be achieved through collective actions and plays an active role in acting as a bridge to justice for the clients who come from the marginalized strata.    
Mr. Gupta regularly appears before High Courts, Central Administrative Tribunals, various Arbitration Tribunals (State & Ad-Hoc), MSME and other fora. Mr. Gupta has an innate interest in the start-up age in India and has been actively involved in advising small to mature start-ups on various legal issues involving compliance, regulatory and litigation.